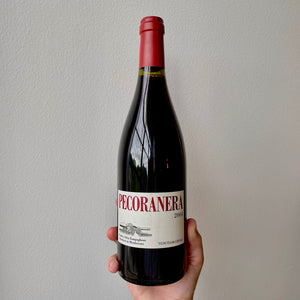 🍇 Freisa, Barbera, Dolcetto
Region: Piedmont, Italy
Farming/ Vinification: Guido Zampaglione and his wife Igiea farm 32 hectares (of which 17 are planted to grape vines) close to the town of Gramalero in Monferrato. The winery sells most of the grapes they harvest, and only keep the best for their own production, with Guido focusing on natural, low-intervention wines with the potential to age in bottle for a significant time. The 2004 Pecoranera is the current release in the United States, and is a blend of 75% Freisa, with Dolcetto and Barbera making up the difference. With only a tiny addition of sulfur added during racking, the wine is then bottled with absolutely no additives?
Notes:  A bit reticent upon opening, a decant of an hour or more helps reveal depth and charm. Aromas of dusty cherry, red currants, red plum, black plum, cranberry, dried orange peel, hints of baking spice, nutmeg, tomato leaf, blackcurrent leaf, earth, forest floor, licorice, and a touch of smokiness.

 Savory, full-bodied and 

soft with good acidity and velvety tannins.